Normally I wouldn't classify this weekend as ZOMGAMAZING. homework and jazz like that (and some hardcore technology problems which I think I've outARGHEDDD myself out via
twitter
and blah blah blah.) But the point of the story OH HEY I CAN'T BE UPSET BECUASE IT'S BEAUTIFUL OUTSIDE.
Okay, so I'd classify this outfit as average. Nothing amazing. But it gets posted because ZOMG THE WEATHER'S BEAUTIFUL OUTSIDE.
Here's a little video. I warn you, DONT GET TOO EXCITED. i totally had a lil' video edited, but apparently technology decided to Karma me or something, and failed to upload. I'll try later gaters. So yeah. But if you want to see my dog resist my love then enjoy?
uploading was such a fail so here's the lame version from lexy ht on Vimeo.
The song to the edited video (sigh) was Don't Quit! Not Quite! by HeyHiHello! which is quite a lalallifeisjoyous of a song. So yeah. Check it out if you want a dose of happy?

I guess I'll leave you with this fun creation. Flipping back and forth between pictures excited me, so I though I'd make it go automatically.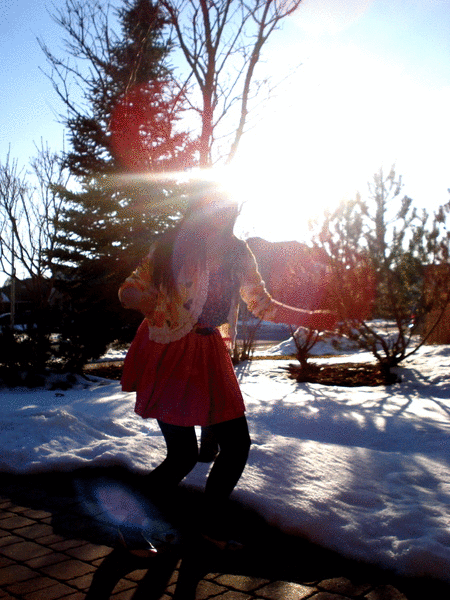 Here's to almost spring! Long bikes in parks, sipping frozen hot chocolate whilst people watching, thrifting in keds, wanting to be friends with random intriguing people, trying to create a memory of everything i see, doodling at parks, soaking up the sun. GAH I CAN'T WAIT.
(Sorry these posts have been a little lame-o. I'm a little bummed - WOAH tons of contrasts in this post - about the lack-of-video-uploading-thing. Though I'm still ecstatic about the seemingly spring. I will hurt someone if it snows.)
Oh hi,
what are you excited about whatever upcoming weather your part of this universe is getting?